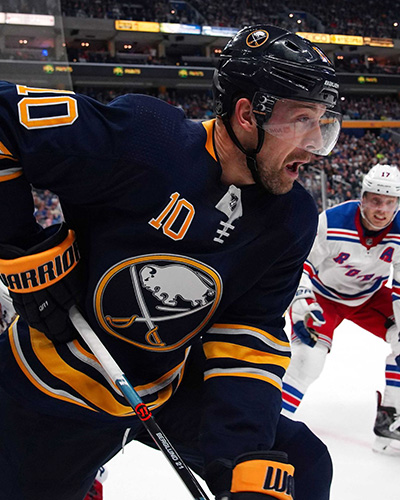 QUICK FACTS
NAME
Patrik Berglund
BIRTHDAY
June 2, 1988 (age 30)
HOMETOWN
Västerås, Sweden
HEIGHT/WEIGHT
6'1″/189 lbs
POSITION
Centre
SHOOTS
Left
Patrik Berglund
NHL – Free Agent
Patrik Berglund is a Swedish professional ice hockey centre who is currently an unrestricted free agent and most recently played for the Buffalo Sabres of the National Hockey League (NHL). He was drafted 25th overall by the St. Louis Blues in the 2006 NHL Entry Draft. Internationally, Berglund represented Team Sweden on both the junior and senior levels, including playing on the team that won silver at the 2014 Winter Olympics.
In the 2005–06 season, Berglund played for VIK Västerås in the HockeyAllsvenskan, the second highest league in Sweden. He was a top prospect in the 2006 NHL Entry Draft and was drafted 25th overall by the St. Louis Blues.
He scored his first NHL goal on 13 October 2008 against Vesa Toskala of the Toronto Maple Leafs. Paired on a line (called the "Kid Line" by Blues fans, due to the oldest player on the line being 22) with David Perron and his flatmate T. J. Oshie, Berglund became a scoring threat in St. Louis' surprise 2008–09 season, finishing the year with 21 goals and 26 assists for 47 points in 76 games.
On 25 June 2013 Berglund signed a one-year $3.25 million contract extension with the Blues. On 26 June 2014, Berglund signed an $11.1 million contract to continue playing with the Blues for 3 more years.
In the midst of the 2016–17 season, Berglund signed a five-year $19.25 million contract extension with the Blues on 24 February 2017.
During the off-season before the 2017–18 season, Berglund was injured while training and was expected to be out of the Blues lineup until December. He was activated off injured reserve on 29 November, and he made his season debut against the Anaheim Ducks that night.
On 1 July 2018, Berglund, along with Tage Thompson, Vladimír Sobotka, a first-round pick in the 2019 NHL Entry Draft and a second-round pick in the 2021 NHL Entry Draft, where traded by the Blues to the Buffalo Sabres in exchange for Ryan O'Reilly.
On 15 December, Berglund was suspended indefinitely by the Sabres for failure to report to the team. At the time of the suspension Berglund had missed the previous two games with what was said to be an illness, but the Sabres' head coach Phil Housley commented that "obviously it developed into something different."On 19 December, the Sabres terminated Berglund's contract.